How is Vietnamese Mid-Autumn festival?
Mid-Autumn festival (Tet Trung Thu) is a standout amongst the most popular celebrations in Vietnam which is traditionally held on the 15th day of the 8th Lunar Month and it is celebrated for a whole day for children.
The Mid-Autumn festival dates back to the Rice Civilization of the Red River delta, over 4,000 years ago. It is not only held to celebrate a successful harvest but also a chance for parents to make up for their children after spending much time on harvest season which was usually done by September (Mid August in the Lunar calendar). In this special occasion, the parents often do something special with them by preparing many different foods - Moon cakes, candies, fruits. It was held under the full moon, which represents fullness and prosperity of life.

Vietnamese people have various activities to celebrate the Mid-Autumn Festival. The main activities include eating moon cake, carrying carp-shaped lanterns, worshiping the God of Earth. Moon cake is made from flour, meat, egg, dried fruit, pumpkin's seed, peanut. It symbolizes Luck, Happiness, Health and Wealth on the Mid-Autumn day.
It's also a tradition for Vietnamese to light lanterns during the Mid-Autumn night. A legend went that a carp spirit once killed many during Mid-Autumn night, so that no household dared go outside that night. Later, a wise man thought of an idea: he made a carp-shaped lantern with a stick in its belly, and then advised people to walk at night with a carp lantern in hand. The carp spirit was terrified by the light from the carp-shaped lanterns, and dared not go out to kill at Mid-Autumn since then. Nowadays, after dinner, children use the beautiful lanterns, wear funny masks, perform fantastic lion dances, sing folklore songs in the house's grounds or in the streets when the moon is rising.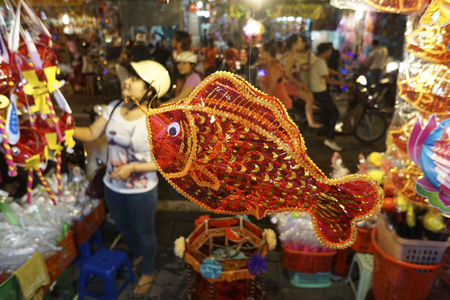 To worship the God of Earth, a platform is set up in the yard during the night of the Mid-Autumn Festival, on which moon cakes, fruit, and snacks are laid. The platform is not taken down until midnight, when the food has been completely eaten. Most families also set up a special platform for children so that they can enjoy food at any time during the evening.

This festival is a good example of Vietnamses traditional culture. In recent years, regardless of the fact that some traditional toys have been replaced by modern ones, the traditional performance has been kept and developed.
Fraud Warning
It has been reported that there are fraudulent websites called halonglafairysails.com and lafairycruise.com try to counterfeit us. Please kindly note, all the information from these websites is incorrect and all the reservations booked through them are not accepted by LaFairy Sails.
Halong Bay 1 Day Trip
A day cruise on the LaFairy Sails is the best choice for you to experience the magnificent Halong Bay with our "all-in-one" itinerary for a limited time schedule.

More Details

?